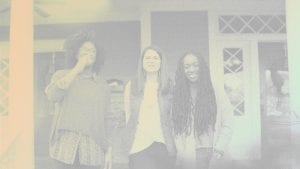 Please note that this conversation on hospitality was pre-recorded before the COVID-19 pandemic. We hope this conversation encourages you to show hospitality once it is safe to gather again.
On today's episode of Let's Talk, Jasmine Holmes, Jackie Hill Perry, and Melissa Kruger talk about welcoming friends and strangers into their homes. Hospitality comes naturally to some, but to others it feels intimidating, intrusive, or just optional. But more than once, the Bible commands Christians to show hospitality (e.g., 1 Pet. 4:9).
Inviting others into your home can feel like a lot of work. Melissa admits that nearly every time she has guests over, she says to her husband, "Now why are we doing this?" That feeling is normal: "The good the Lord wants us to do, we're always going to be tempted not to do," Melissa says. "And I feel that almost every time. And I think knowing that you're going to feel it has helped me push through it." By the time her guests leave, she's usually really glad they came.
For more on how to practice hospitality, check out the links below. You can subscribe to Let's Talk on Apple Podcasts, Stitcher, or wherever you get your podcasts. Next week's episode will be a conversation on how to make good decisions.
Related content:
---
Today's episode of Let's Talk is brought to you in part by International Justice Mission. IJM is a global nonprofit working to end slavery and violence around the world. They take on the difficult, complex work of helping governments protect their own citizens from brutal systems of oppression that have, in some cases, flourished for centuries. With your support, children, women, and men trapped in cycles of awful violence, abuse, and slavery can be found. They can be rescued and they can be restored to health and wholeness. By becoming a freedom partner, you can make this transformation possible. Freedom partners give monthly so IJM teams can show up month after month to rescue people from slavery and walk with survivors as they heal. Visit IJM.org/LetsTalk to join today. Your consistent support will impact the lives of individuals all over the world who are waiting to be free.