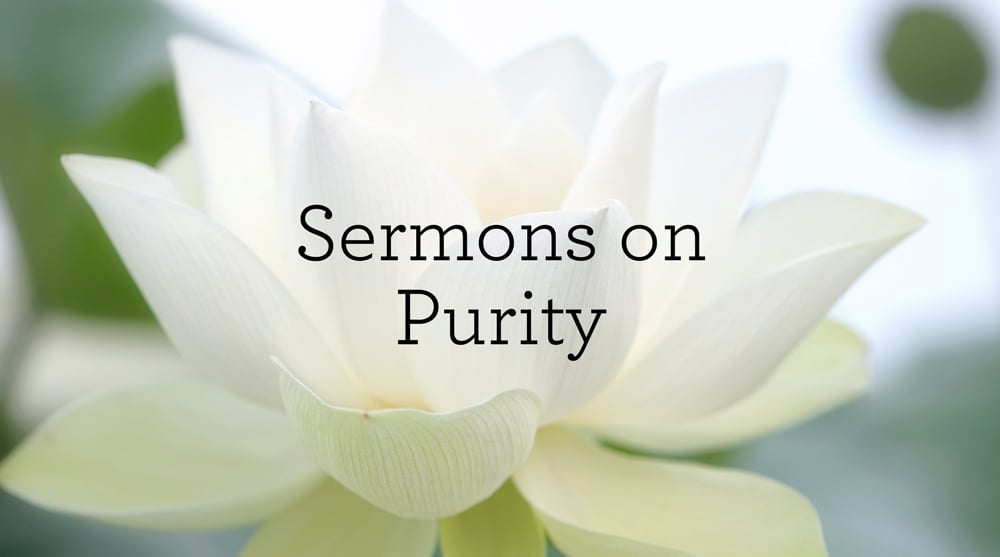 In today's culture, purity is often looked down on—but the Bible's timeless perspective is just as relevant as ever. In these sermons, Alistair Begg explains that true purity is made possible only when we recognize that Jesus is the key to living a pure life.
"Whom God Has Joined" (Exodus 20:14) — Listen | Download MP3 | Purchase CD ($1.25)
Few things illustrate the contrast between a biblical worldview and today's culture better than the Bible's statements about the priority and exclusivity of marriage. As Alistair Begg notes in this study of the Seventh Commandment, God's pattern for marriage is clear and radical. By pursuing purity and guarding against immorality, Christians can uphold the value of marriage and demonstrate Christ's love for the Church to the watching world.
Purity: Living by the Rules (Hebrews 13:4) — Listen | Download MP3 | Purchase CD ($1.25)
Biblical teaching on sex and marriage certainly marks Christians as peculiar in the eyes of the world. The call to honor matrimony as God-ordained and to avoid anything that would contaminate the marriage bed is a high one indeed. Sadly, even as the world has become disenchanted with marriage, many in the church have neglected its promise. As Alistair Begg explains, though, biblical marriage isn't a grim call to restriction but a loving invitation to freedom and joy!
Purity (Southern) (1 Thessalonians 4) — Listen | Download MP3 | Purchase CD ($1.25)
First Thessalonians 4 makes it clear that in God's purpose for sanctification, it is impossible to make progress while engaged in sexual immorality. Examining this passage, Alistair Begg emphasizes the importance of personal holiness for those who shepherd God's people. A pastor's secret life is key to his public usefulness, and one of his congregation's great needs is his godliness. He must provide an example for those under his care to follow by steering clear of any sexual impurity.
Sex Is Sacred — the Seventh Commandment (Exodus 20:14) — Listen | Download MP3 | Purchase CD ($1.25)
Our culture has shifted in its perception of marriage and sex: what God intended as a divine institution and the foundation for the family unit is now commonly reduced to a legal contract. In this message on the seventh commandment, Alistair Begg reminds us that the command "you shall not commit adultery" speaks broadly to both purity before marriage and fidelity within it. We please God when we nurture such relationships with honor and holiness in service to one another.

Read More
Truth For Life Blog