I've seen dozens of doctors over the past two decades. To make these medical appointments more valuable, one of the most helpful things I can do is to record my ongoing health issues on a calendar. I track which days I've had debilitating headaches, when they started, how long they lasted, and which side of my head they were on.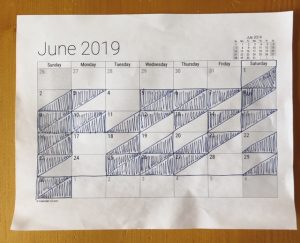 To make my overall health a little easier to visualize, I sometimes take the rectangle of each day on the calendar and make a diagonal line. If I had a migraine in the morning, I shade in the upper triangle; if in the afternoon or evening, I shade in the lower one. So if I woke with a migraine sometime in the night and the pain lasted all day, the whole rectangle would be shaded in. A dark rectangle of agony.
Each of these shapes fills up my calendar, portraying a pattern of pain.
When I run into someone at my kids' school, the grocery store, or church, they often ask, "How are you doing?" I'd like to show them a picture of my calendar. Some people's calendars record field trips and work deadlines, family reunions, and dinner dates. My calendar records physical pain and suffering.
We hear quite a bit about trusting God with our future, with what lies ahead. But I'm learning to trust God with the past.
Trust God's Plans
For example, looking at last June's calendar, it's easy for me to feel cheated, angry, and resentful. Nearly every day has a portion blacked out by pain. When I think back over the month, it's tempting to sigh in frustration, Well that was an awful month! What an utter waste of time!
We hear quite a bit about trusting God with our future, but I've also been learning to trust God with the past.
I look back at the countless months that have turned into years and even decades of pain, and it all feels like it was a big waste. It feels like God has either checked out or made a huge mistake. But when I hold those feelings up to the light, I know they're not true.
Proverbs 16:9 sheds light on my calendar: "The heart of man plans his way, but the LORD directs his steps." I planned what I thought my June should look like. It was full of good things. I planned to drive my girls to tennis and basketball practices, help them with their homework, cook healthy meals, and finish all of my work commitments on time. I intended to meet an old friend for a walk and take a new friend out for coffee.
But I missed a lot of those things. I missed worshiping on Sunday mornings with my church family. I canceled connecting with other women. We ordered takeout a lot, and, pre-pandemic, I missed many of my daughters' sporting events or important school functions. Missing a science fair or a soccer game doesn't seem like a big deal. But when you've had to miss hundreds—even thousands—of things over two decades, you start to feel cheated. You may even begin to believe that life is unfair.
Last spring, my youngest found me lying in bed when she arrived home from her soccer game: "Does your head still hurt really bad, Mom? It's okay that you missed my game; I have more coming up. Maybe you can come to one of those games." My oldest daughter asked me, "Mom, someday if you don't have a migraine, can you take me to the store to pick up some new art supplies?" I constantly feel like a disappointment.
But Proverbs 16:9 reminds me that God has directed my steps each month. I can look back and trust that everything that was supposed to happen, did. The things I missed, well, I wasn't supposed to be at them anyway. The things I wasn't able to do weren't meant to be done by me.
The things I missed, I wasn't supposed to be at anyway. The things I wasn't able to do, weren't meant to be done by me.
Fixing my eyes on this truth releases me from from feeling unnecessary guilt. I can trust that this was somehow God's beautiful plan for my bad month. I made my plans, but these were the steps he directed.
Trust God's Purposes
I also see truth in Proverbs 3:5–6: "Trust in the LORD with all your heart and lean not on your own understanding; in all your ways submit to him, and he will make your paths straight." If I'm leaning on my own understanding, suffering seems like a pretty junky way to spend a month (or a decade).
Our idea of a straight path would always be that we get the job, get the house, get the guy, have healthy and beautiful children, feel great, and live happily ever after. Our plan for ourselves never includes heartbreak, sickness, loss, or even the inconveniences of daily life.
But when we really trust his understanding, we remember that he's our good Shepherd (John 10:11), that he loves us with an everlasting and sacrificial love (1 John 4), that he only does good to us even when it doesn't feel good (Rom. 8:28), that he has plans and purposes beyond what we can imagine (Eph. 3:20), that outwardly we're wasting away but inwardly are being renewed daily (2 Cor. 4:16), that he's refining our faith into pure gold (1 Pet. 1:7), that he's preparing us for eternal glory (2 Cor. 4:17).
Then we can look back over the past (which may look like complete rubbish to us) and trust his understanding with all of it. Seasons of pain might feel like a complete waste of time, but as believers, those might be the most valuable moments we spend on this earth.
Seasons of pain might feel like a complete waste of time, but as believers, those might be the most valuable moments we spend on this earth.
I'm guessing when you look at your past, there are some hard things to swallow. Maybe you think you've wasted years of your life in a relationship that went nowhere. Maybe you wish you could redo some of your parenting years. Maybe like me, you've suffered physically with no answers.
It can even be the small, daily things that get in the way of our plans: traffic, technology glitches, and toddler temper tantrums all derail us from a day that was supposed to be filled with more important tasks. Can we trust that he has directed our steps, that these are his straight paths? Can we trust that he has been at work in all of these things?
In ways we may not understand, he will make our paths straight in the future, and he has made them straight in the past.
Read More
The Gospel Coalition