Sixty years ago today, six-year-old Ruby Bridges became the first African American student to integrate an elementary school in the South. Here are nine things you should know about Bridges and the desegregation of U.S. public schools.
1. In a brief period after the Civil War, Black Americans in New Orleans gained numerous freedoms—including the ability to attend integrated schools—that had previously been denied to them. But when the federal troops were removed from the city in 1877, many of those rights were withdrawn. In an attempt to challenge segregation in 1892, Homer Plessy was recruited by a civil rights group to violate the state's law that required Black railroad passengers to ride in separate cars. Plessy was arrested, tried, and convicted, and his case was appealed to the Supreme Court. The ruling in Plessy vs. Ferguson held that separate treatment did not imply the inferiority of African Americans, and that segregation did not in itself constitute unlawful discrimination. This decision to allow "separate but equal" treatment of Blacks codified school segregation.
2. In 1954, fifty-eight years after the Plessy decision, the Supreme Court unanimously ruled in Brown v. Board of Education of Topeka that separate but equal educational facilities for racial minorities was inherently unequal, and violated the Equal Protection Clause of the Fourteenth Amendment. The opinion delivered by Chief Justice Earl Warren concluded that, "To separate [children] from others of similar age and qualifications solely because of their race generates a feeling of inferiority as to their status in the community that may affect their hearts and minds in a way unlikely ever to be undone" and that "Separate educational facilities are inherently unequal."
3. A year later, the Supreme Court issued a second ruling acknowledging that local schools may have difficulties in implementing desegregation but that the task should be undertaken "with all deliberate speed." Despite this mandate, many segregationists in the South openly defied the law. For example, Prince Edward County in Virginia decided that rather than integrate their schools they would close their entire public school system. County officials created private schools, supported by tuition grants from the state and tax credits from the county, to educate White children while no provision was made for Black children.
4. Five years after the Brown decision, a group of nine black students enrolled at formerly all-white high school in Little Rock, Arkansas. On the first day of school the students—dubbed the Little Rock Nine—were prevented from attending when Governor Orval Faubus called in the Arkansas National Guard to block the black students' entry into the high school. A court ordered the Guard to be removed and on September 23, the police escorted the nine students into the school as a mob of over 1,000 protested outside the building. The next day, President Eisenhower sent in 1,200 members of the U.S. Army's 101st Airborne Division and placed them in charge of the 10,000 National Guardsmen on duty. Escorted by the troops, the Little Rock Nine attended their first full day of classes on September 25. But throughout the rest of the school years, the Little Rock Nine suffered from harassment and violence.
5. Ruby Bridges was born in Mississippi in 1954, the year of the Brown decision. When she was six-years-old, New Orleans public schools were finally forced to desegregate. In the spring of 1960, she took a test, along with other black kindergartners in the city, to see who would go to an integrated school. Bridges said her mother was supportive, but her father was opposed. But after they "argued about it and prayed about it" the parents decided to let Ruby attend. Six of us chosen to integrate the city's public-school system. Two decided to stay in their old schools, and three were assigned to another school. Ruby would be the only African American student in her new school, which was five blocks from her home.
6. On her first day of school, Ruby was escorted by four U.S. marshals. Two marshals walked in front of her and her mother and two behind, so they'd be protected on both sides. "That reminded me of what Mama had taught us about God," said Bridges, "that he is always there to protect us." That day the marshals ushered her into the school past crowds that were screaming insults and racial slurs. Marshals would also accompany her throughout the rest of the school year. Only one teacher Barbara Henry, a white Boston native, was willing to teach Bridges. All year Henry had a class of one student. Although Bridges had to eat lunch alone and could only play with her teacher during recess, she never missed a day of school that year.
7. Pro-segregationists threatened to boycott the business where Ruby's father worked, resulting in his being fired from his service station job. Her grandparents were also forced to move from the farm where they had been sharecroppers for 25 years. Despite such treatment, Bridges said she forgave all the people involved, even those who threatened to kill her. She admits that as a child she only forgave out of habit. It wasn't until she was she was 30 years old, she says, that she forgave a family member and realized the importance of forgiveness. In 2005, one of her sons was murdered, yet she says she "refused to ask, 'Why me?' or give up her faith," instead insisting, "the more faith is tested, the stronger it gets."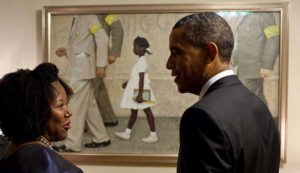 8. In 1963, painter Norman Rockwell recreated Bridges' first day at school in his painting, "The Problem We All Live With." The image of her being escorted to school was on the cover of Look magazine on January 14, 1964. In 2011, the painting was displayed in the West Wing of the White House for four months at the request of President Obama. In 1995, the Harvard child psychologist and a Pulitzer-Prize winning author Robert Coles published The Story of Ruby Bridges, a children's picture book depicting her story. According to the New York Times, in his book, "Dr. Coles is very clear about what brought the little girl through her trials: her family's religious faith and her own prayers."
9. Ruby Bridges Hall is now chair of the Ruby Bridges Foundation, which she formed in 1999 to promote "the values of tolerance, respect, and appreciation of all differences" "Each and every one of us is born with a clean heart," she says. "Our babies know nothing about hate or racism. But soon they begin to learn—and only from us. We keep racism alive. We pass it on to our children. We owe it to our children to help them keep their clean start."
Read More
The Gospel Coalition