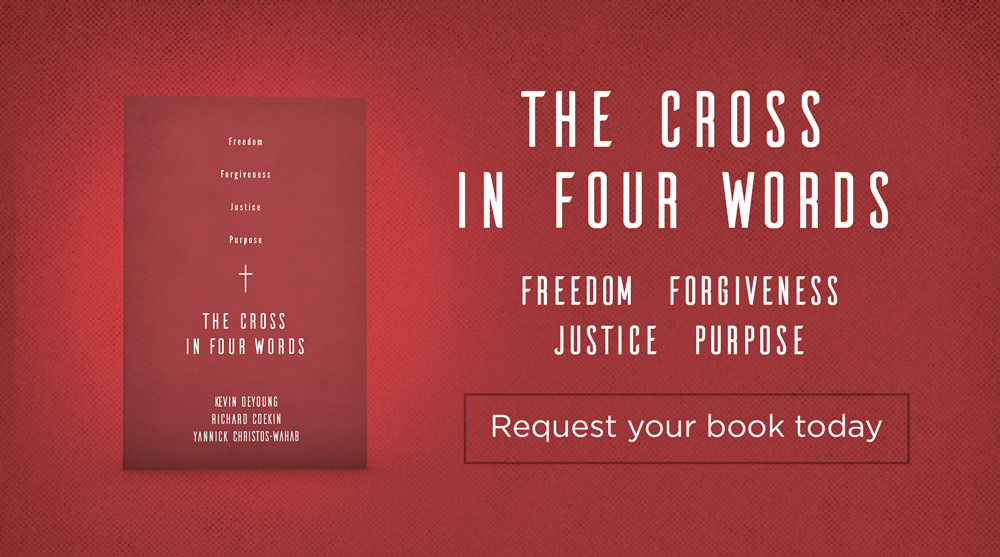 The cross of Christ stands at the center of the Christian faith. In fact, the preaching and ministry of the early Christians were dominated by the theme of Christ crucified. The book The Cross in Four Words surveys the whole of Scripture to help us gain a better understanding of God's vast accomplishments through the cross—and what these accomplishments mean for each of us personally.
By tracing the line of God's redemptive plan through all of Scripture, beginning in the early chapters of the Old Testament, The Cross in Four Words unpacks the specific blessings we're given individually when we trust in Christ for our salvation.
These blessings are examined in-depth within the context of four main themes. When you read The Cross in Four Words, you'll learn about:
Freedom. How the Passover and the blood of a lamb described in Exodus 12 pointed forward to freedom from sin through the blood of Christ.

Forgiveness. How the animal sacrifice on the Day of Atonement outlined in Leviticus 16 provided a temporary cleansing of guilt and prefigured the once-and-for-all forgiveness granted through the cross.

Justice. How Isaiah 53 foretold the declaration of righteousness by God through the atoning work of the cross.

Purpose. What our purpose as believers redeemed by the blood of Christ means as we seek to follow in Jesus' footsteps and truly live out our faith.
In the book's four concise chapters, three contributing authors each offer their well-studied insights to show us how the Old Testament foreshadowed God's redemptive plan centuries before its fulfillment at Calvary.
The Cross in Four Words is a brief book, but it's rich with profound truths that offer both new believers and longtime Christians many stirring insights into the blessings that are ours through the cross.
Request you copy today and meditate on the magnificence of God's grace through the cross of Christ as you prepare for Easter.
"This is a really helpful book that I will be sharing widely. I read it in a single sitting and took a lot of notes." —Alistair Begg


Read More
Truth For Life Blog