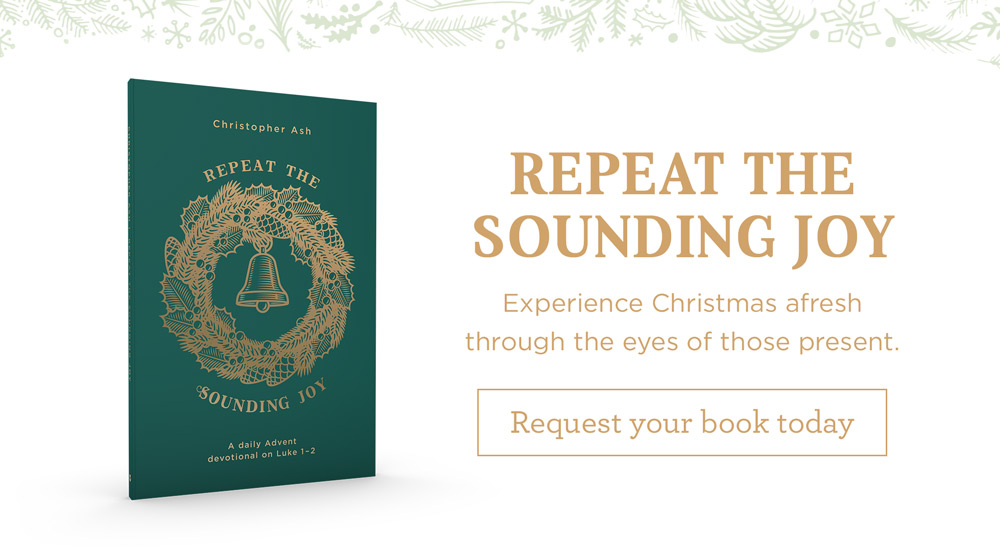 Advent is a wonderful season of preparation for followers of Jesus. This year, Advent begins on November 29. It's a time of joyful expectation as we await celebrating Jesus' birth and anticipate His return. However, for many of us, the Christmas story can seem so familiar that we fail to grasp its magnitude. If you find yourself wishing you could experience Christmas in a fresh way, you'll greatly enjoy the new release Repeat the Sounding Joy: A Daily Advent Devotional on Luke 1–2.
In this captivating Advent devotional, pastor Christopher Ash invites us to journey through the first two chapters of Luke's Gospel and experience Christ's birth through the eyes of those who were there. Your imagination will be stirred as you view Christmas from the perspectives of Mary, Elizabeth, Simeon, Zechariah, and even the shepherds. Ash helps us discover new details as we revisit the familiar story in a whole new way.
Of course, there's more to Advent than Jesus' birth at Bethlehem. Ash also points our attention to Christ's future return. In these easily read, engaging pages, you'll reflect on the truth that Jesus, who came as a babe in the manger, will return as the reigning King. Alongside the text, Repeat the Sounding Joy also features Scripture, songs, prayers, and space to journal.
While we're busy shopping, cooking, and gathering with family and friends, it can be challenging to focus on the right priorities. Repeat the Sounding Joy points us into the pages of Scripture and is the perfect book to help you experience an Advent centered on Christ. Request your copy today.


Read More
Truth For Life Blog